Art Exhibition "Raiment of the Soul"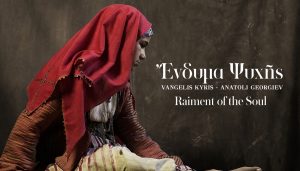 The Leventis Municipal Museum of Nicosia presents the art exhibition Raiment of the Soul,
organised under the auspices of the Historical and Ethnological Society of Greece – National Historical Museum. It is dedicated to the celebrations for the bicentennial of the Greek Revolution,
as well as being a tribute to Greek history with due deference to the local traditions of Cyprus.
In the framework of the temporary exhibition Raiment of the Soul, invaluable Greek and Cypriot
traditional garments from the National Historical Museum meet the penetrating lens of Vangelis Kyris.
His photos were then complemented with the embroidery of Anatoli Georgiev,
who manages to trace with his thread symbols of faith and protection, artistically elaborate designs
inspired by nature and sewn on the garments, which 'speak' of love, strength, richness,
the soul and, ultimately, of history itself.
The exhibition was curated by Erica Vassiliou, while the general coordination was organised
by Demetra Theodotou Anagnostopoulou, the Director of the Leventis Municipal Museum of Nicosia,
and Tzeni Lymperopoulou Savvidou, the Deputy Director.
Exhibition duration: 30.11.21 – 03.04.22
Opening hours:
Tuesday-Sunday, 10.00-16.30