PREMIERE 6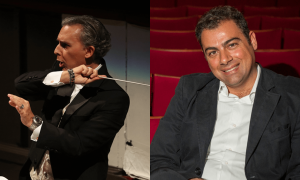 The Cyprus Symphony Orchestra gladly welcomes on stage the exceptional Cypriot pianist Manolis Neophytou and the acclaimed maestro Leonardo Catalanotto to perform works by two highly prominent composers of Russian musical romanticism: Sergei Rachmaninov and Pyotr Ilyich Tchaikovsky.
Rachmaninov's Piano concerto no. 2, premiered in 1901 with the composer on the piano, is one of the most technically challenging concertos ever written. The work abounds in affective ideas and tender charm, with the piano assertively taking the role of a second orchestra.
Tchaikovsky's crowning Symphony no. 6, premiered in 1893 under the composer's baton, falls nothing short of passionate emotional extremes, from somber moods to light and graceful moments, hence its title "passionate".
Lefkosia: Friday 15 April 2022
Pallas Theatre, Pafos Gate, 20:30
Ticket prices:
Stalls Premium Seats: €18 / €14 (concession)
Stalls Regular Seats: €13 / €10 (concession)
Balcony: €8 / €6 (concession)
Concession tickets are available to: Students, soldiers, pensioners, large and five-member families on presentation of ID.
Free Entrance for people with disabilities.
Ticket presales:
Online at www.cyso.org.cy and 2 hrs before the concert.
For the concert in Lefkosia, tickets are also available at the Pallas Theatre Box Office every Wednesday 16:00-19:00.
Pallas Theatre, Pafos Gate (Rigainis and Arsinois corner, 1010 Lefkosia, 22 410181)
Information: 22 463144, www.cyso.org.cy