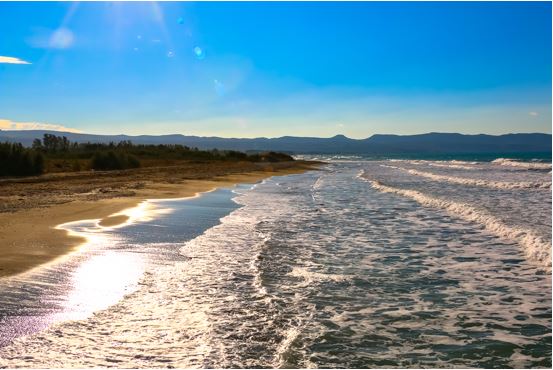 Did you know Nicosia District has a beach? A hidden gem, Kato Pyrgos in the heart of the stunning Tylliria area, combines beaches with crystal clear waters and beautiful hillsides.
As few know, Nicosia has beautiful pebble beaches in the charming and remote village of Kato Pyrgos Tyllirias, at a distance of 111km away from the city centre. The village, which also operates a fishing shelter, is built on the northern foothills of the Troodos mountains and combines a unique coastal front with green hillsides, making it particularly attractive to holidaymakers. The name of the village derives from "Troulli", a small building resembling a tower (Pyrgos) located on a hill above the beach in the area. The stone-built tower was used as an observation point during the Venetian period. The longest route to the village from Nicosia, is through Paphos, but it's worth the drive, as the scenery from Argaka village to Kato Pyrgos is breathtaking – a mesmerising combination of the deep blue sea surrounded by lush green fields.
The most popular beaches in this area are called "Krioneri" (cold water), "Omega" (due to the shape of the coastline – like the Greek letter – Ω) and "Apothikes" (warehouse). Apothikes is a sandy beach named after a building located nearby that used to operate as a warehouse in the 1920s. There are sun beds and umbrellas for rent, and a few restaurants and taverns nearby. Krioneri beach was named after the cold waters of the sea. There are some colourful sun beds here that belong to the "Grape by the Sea" beach bar where you can enjoy refreshing drinks and dishes such as steaks, sandwiches and burgers. It's open all day from 10am until late at night. A small part of Krioneri beach allows for swimming with dogs. The beaches are surrounded by hillsides, greenery and wild nature, with pine trees, peach trees and lemon trees blending seamlessly with the majestic views of the sea.
With just 1500 inhabitants, the village attracts a mixture of tourists and locals who want to escape the buzz of the city and the other coastal areas that gain increasing popularity during the summer months. Apart from its serene and relaxing beachside, Kato Pyrgos is also worth visiting for its historical precedence – one of its old churches, the historic Chapel of Panagia tis Galoktistis (Virgin Mary), features murals of saints dating back to the 12th and 14th centuries. According to legend, the chapel was built with milk, hence its Greek name "Galoktistis", after the Virgin Mary answered the prayers of the villagers to heal their ailing sheep. At the village square you will find a 20-metre tall oak tree dating back to 1898. The village is also known for cultivating fresh fruit, such as peaches, oranges, lemons and mandarins.