A new year is upon us. As 2019 kicks off what better way to start off the year than to seek out healthier options for your mind, body and soul. Every year is a chance to improve, to evolve and to seek out new experiences. Surprisingly, in a meat-focused food culture there are still plenty of delicious options in Nicosia if you're a vegan or vegetarian…or simply want to cut down on your overall meat intake. Generally, the Cypriot cuisine is quite simple, based on high-quality seasonal ingredients that are the star of the show (with a little lemon to spice things up of course). With the surrounding abundance of delicious fresh veggies and legumes amongst other ingredients, it is an easy feat to find amazingly flavourful dishes that will fill you up and satisfy your taste buds just as much as meat. So, come on, why not explore a little bit, get outside your comfort (meat) zone and discover what's out there?
Here are some of the yummiest options out there for Vegans, Vegetarians and people who just want to eat good food no matter what category!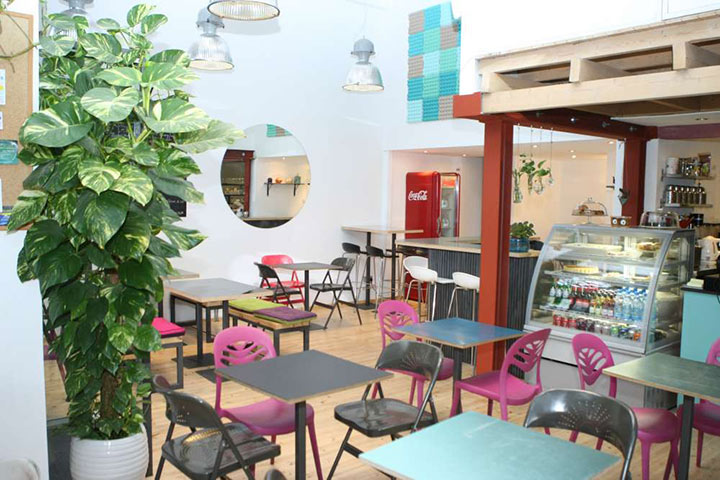 Silver Pot
Silver Pot is a quaint corner restaurant that is always buzzing. Their ethos are creativity, health and good vibes. Their focus is on keeping the restaurant relatively small and intimate allowing for great service, fresh food, juices, and smoothies made to order. They serve lunch and breakfast daily and their menu changes every day with a substantial amount of vegetarian and vegan options. You can count on the fact that there will be 1-2 vegan starters and mains each day, plus raw vegan cakes. They also serve specialty teas and coffees. And trust that you won't want to miss the brunch menu on the weekends!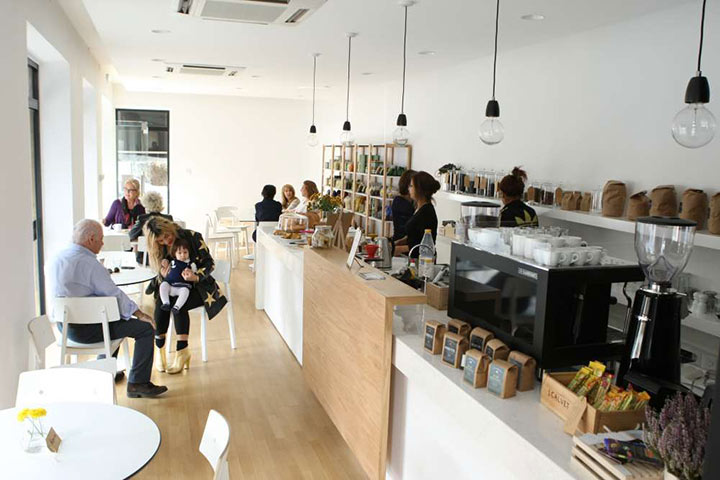 Zest Coffee + Kitchen
Zest is a relaxing, minimal and bright Scandinavian-inspired space in the center of Nicosia. It's a day-time cafe that is great for coffee, tea, cakes, light snacks but also serve breakfast items as well as lunch. They typically offer 5-6 lunch options that change daily and can be selected from the display counter that is set up every day at 13:00. The food is homemade using fresh hand-selected ingredients by the two owners who are also the chefs. The variety of healthy options make it a must-try.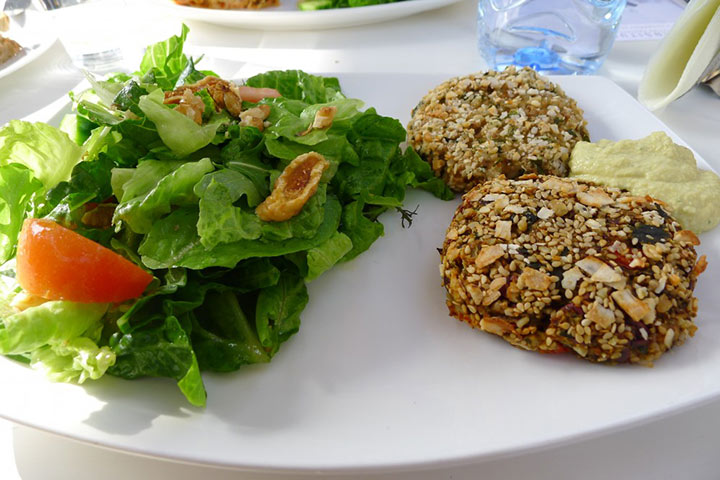 Inga's Veggie Heaven
At Inga's, you will find a cafe-like restaurant solely focused on Vegan and Vegetarian dishes serving lunch. Owned by two wonderful women, it is as cosy and welcoming as they come. Located in the Old Town, it has 10 tables (5 inside and 5 outside) serving up creative veggie dishes that change every day based on available ingredients and the season. It's ideal for trying something new or if you simply want a coffee and a piece of cake. They offer Vegan options for these as well! Remember! It's cash only, so come prepared.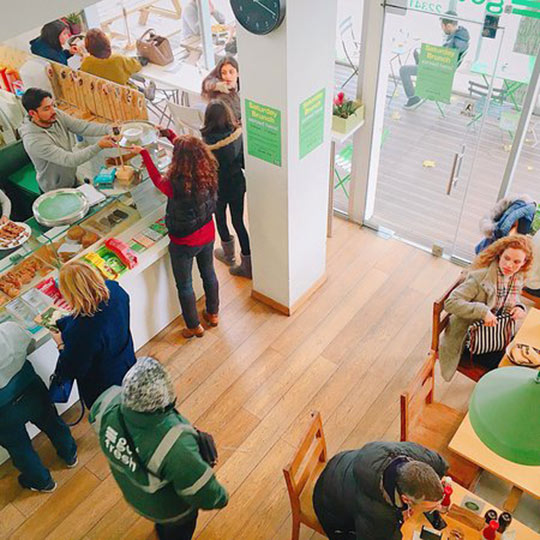 Get Fresh
Get fresh has a simple philosophy, fresh ingredients, extremely healthy options and some healthy-ish options. It's a breakfast and lunch spot that also offers delivery so feel free to order straight to your office. They have two locations in the city which are quite modern and fresh which makes dining-in a great option as well. In addition, you can find a selection of local and organic items on their shelves for purchase. It's the perfect place to grab breakfast or lunch, have a coffee and do a little shopping. Their menu is extensive, filled with many vegan and vegetarian options and a daily specials menu that is announced everyday on their Facebook Page. Their menu clearly indicates if an item is vegetarian, vegan, among other health mentions to delight the most careful eater. Expect to find anything from smoothies, fresh squeezed juices, soups, salads to warm and hot sandwiches and the hot pot of the day! All with enough vegan and vegetarian options per category. And don't be shy to ask if something you see can be altered to fit your food needs.

Find their menu here: http://www.getfresh.com.cy/menu-en.pdf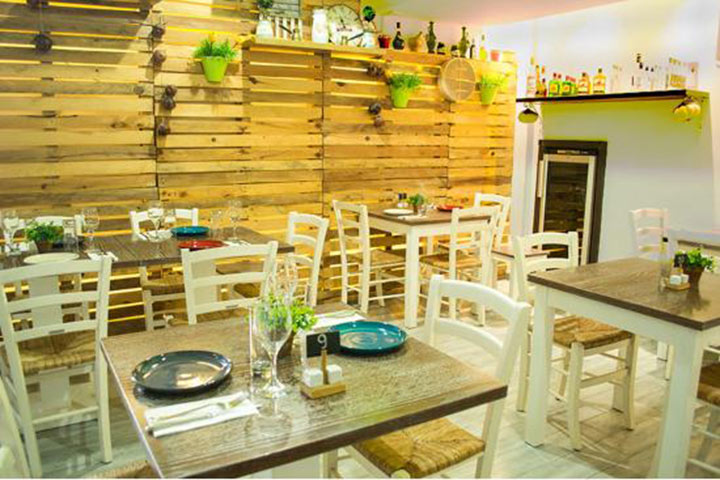 Marmitta
Marmitta is a Magirio-type restaurant offering a variety of homemade traditional specialities. They are open daily for lunch and coffee. It is a small, cute restaurant with plenty of vegetarian and vegan dishes on the menu. The Cypriot classics are tasty and fresh, ranging from salads to legumes and home-made oven baked veggies. The daily menu change allows for a different taste each time you visit and even though the menu may not be huge you can expect to find a new veggie option every time.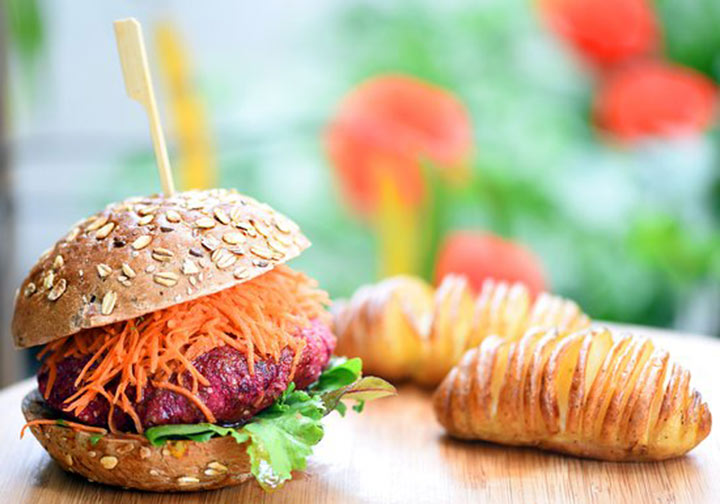 Olives and Burgers Healthy Cafe
An all-day cafe for breakfast, lunch and dinner. They have an extensive menu with a large range of healthy options that are vegan and vegetarian. It's good to know that Vegan menu items are clearly labeled on the menu with their own symbol and range from sandwiches to salads and several veggie burgers, signature soups, bell pepper hummus, a food bowl, steamed veggies, desserts, smoothies, juices. And the best part is, that for other items that aren't typically vegan or vegetarian it may be possible to alter them accordingly, so just ask if there is something your heart desires. They have online ordering and delivery available.

For online ordering and delivery: https://www.olivesandburgers.com/menu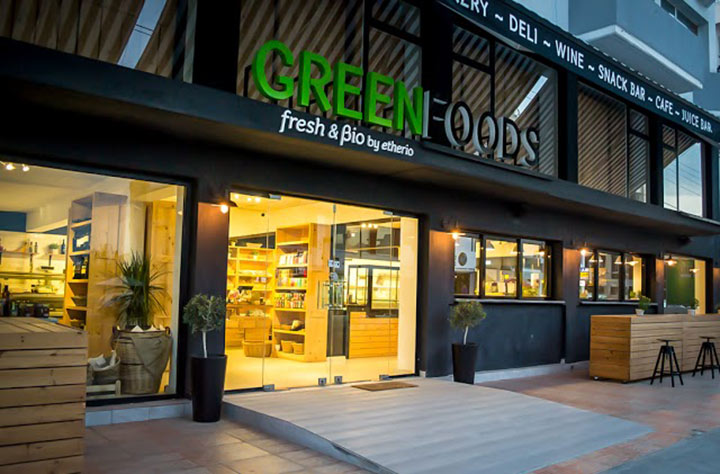 Green Foods
Green foods is a great takeaway or dine-in option for breakfast and lunch. Labeled as an organic, health food cafe, they serve daily homemade options that are close to those of magirio with additional salad, soup and sandwich offerings. The menu is full of vegetarian and vegan dishes to satisfy your hunger. Pop-in for a delicious meal in their modern, trendy cafe space.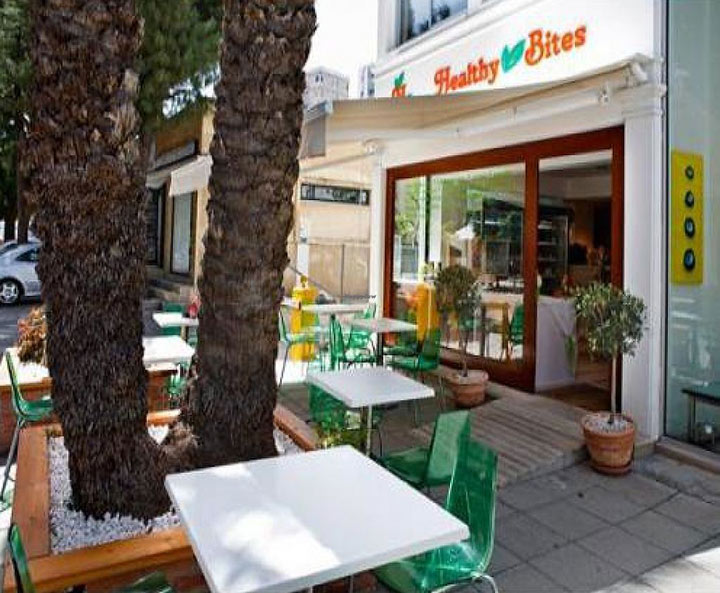 Healthy Bites
A lunch spot that has a variety of healthy choices including noodle, sandwiches, wraps, salads, sushi, fresh juices, smoothies, soups, baked goods. There are many vegetarian and some vegan options as highlighted on their menu. Additionally, there are a range of organic snacks and drinks as well. With free delivery, you can simply order to your home or office and enjoy a satisfying meal.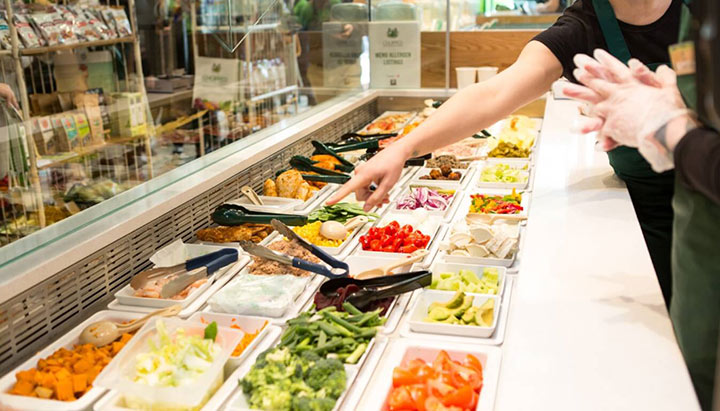 Chopped (salad bar)
Chopped is relatively new to the dining scene, having opened in the capital in 2018. The brand is a healthy lunch option that is originally from Ireland. You can dine-in as well as ordering takeaway and delivery. Since this is mostly a "Create Your Own" type of menu, you can easily choose a dish that is vegetarian or vegan. They give you the choice to pick from many different ingredients to create your own salad or sandwich according to your taste.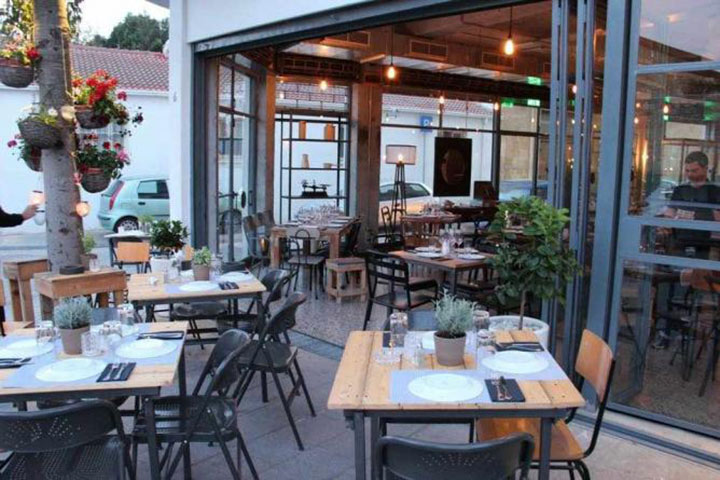 D.O.T
Located in the Old City, on a cozy street corner D.O.T has something for everyone. Serving up wonderful brunch, lunch and dinner options that change seasonally they keep it interesting and fresh. The menu is self-described as serving "urban food" ranging from scrumptious starters to share to a diverse menu of mains dishes. Vegetarian and vegan options are clearly labeled on the menu to make it easy for you to know your options and choose accordingly. The decor is both funky and welcoming with a element of discovery. With the location, food, decor and many dishes to choose from you won't want to miss a visit to D.O.T. Oh and one last tip, don't forget the bloody mary, it's quite fantastic and vegan!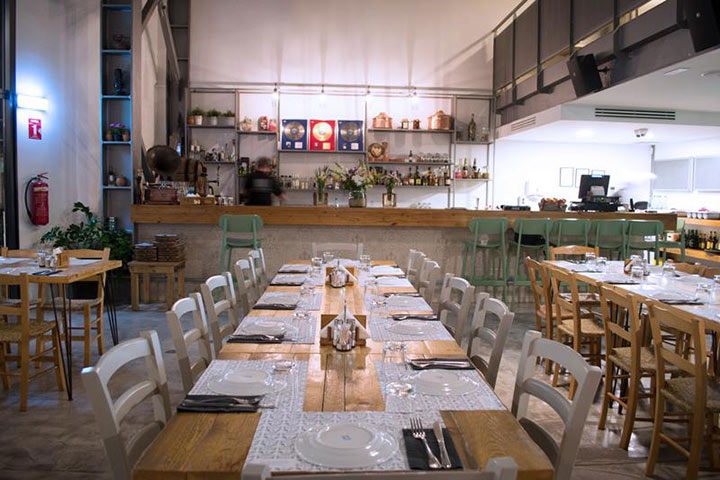 Gevsikleous 62
Gevsikleous is a modern "magirio" (a restaurant with homemade, traditional food). Although you will find many non-vegetarian options on the menu there are plenty of options that are fully vegetarian or vegan. The menu changes quite frequently and the welcoming staff will be happy to assist you with your selection. One of the best dishes of the day is fresh louvi, or whatever legume is in season, in addition you will find delicious soups, salads as well as a choice of baked vegetables. You won't find a huge selection but we promise that what you do find will be made with the best ingredients around.. And of course the love that goes into the homemade food from the chef. The interior and service goes that extra mile to make you feel right at home.

Here you can find the menu of the day: http://www.geusicleous62.com/index.php/menu-of-the-day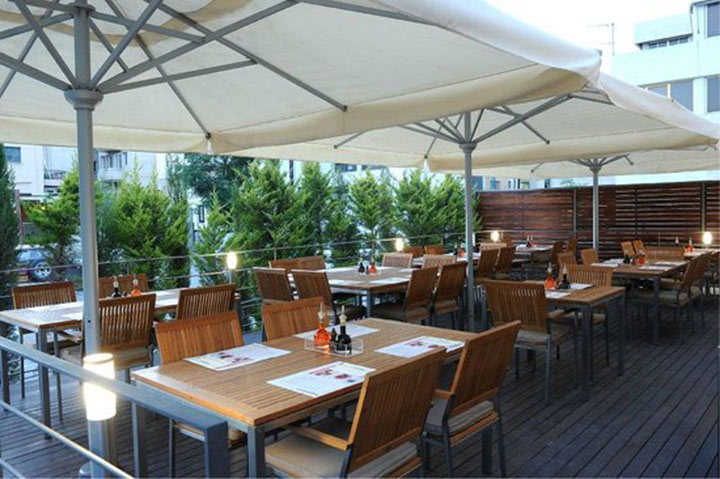 Wagamama
Wagamama is a great option in Central Nicosia with Asian-inspired cuisine, a comfortable minimal atmosphere and a high-quality extensive menu. The quality standards are set by the UK-owned brand and are met with high standards by the Cypriot-owned franchise, ensuring tasty dishes with consistent and high quality menu options. They recently added a dedicated Vegan menu to make it easier to understand their selection. In addition to the Vegan menu, there are a range of Vegetarian options including most of their rice and noodle dishes that you just need to opt for the no-meat (usually) tofu option.

Check out the vegan menu here: https://www.wagamama.com.cy/our-menu/vegan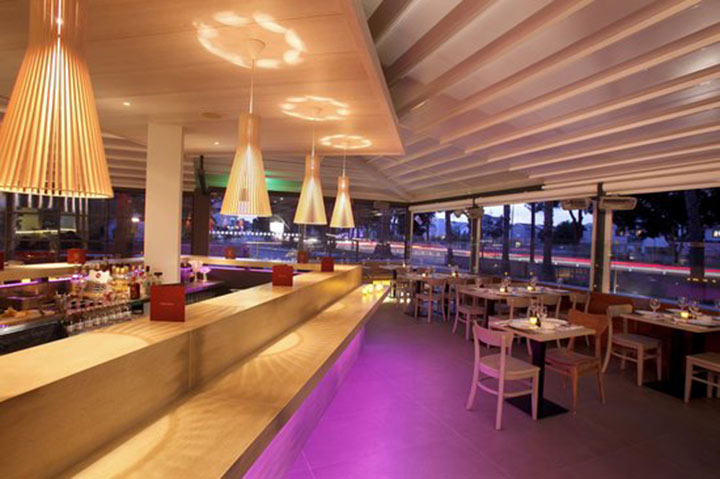 Akakiko
Akakiko is a modern "Easy Japanese Fusion" restaurant serving up some delicious sushi amongst a range of noodle and rice dishes. Located alongside the Hilton park hotel, the decor is fashionable and inviting, a great place for big groups, a night out with friends or a family outing. The menu offers many Vegetarian options that are easy to spot as they are highlighted with a green "V" next to their name. In addition to a great selection of food options, the cocktails are not to be missed!

Find the menu here: https://akakiko.com.cy/akakiko-nicosia-limassol-dine-menu/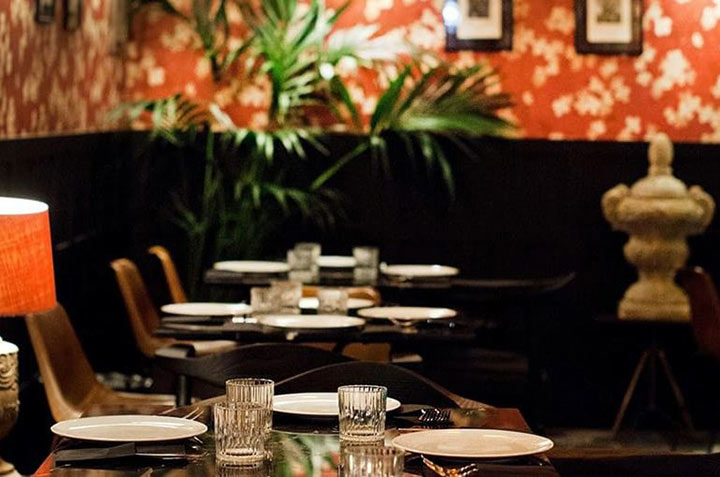 Skinny Fox
If you're looking for a place that you want to dress up a bit and feel like you're out on the town, Skinny Fox won't disappoint. The atmosphere is that of a London or New York restaurant and the clientele is always dressed to impress. The carefully selected menu has a range of pescatarian options if you eat fish or a few vegetarian options that are simply fantastic, including, the truffle spaghetti and mushroom dumplings. The menu changes frequent enough so we may begin to see more vegetarian options as the summer season is upon us.