Nicosia is famous for being an authentic Mediterranean gastronomic destination. This is due to Cypriot cuisine's unique and exotic blend of Mediterranean and Middle Eastern textures, flavours, and aromas. The capital, in particular, has numerous tavernas and restaurants, from family-run, cozy tavernas at the outskirts of Nicosia to gourmet restaurants with fusion tastes at the city centre, rendering Cypriot dainties and delicacies a true culinary experience. In this article, we will reveal some of the best traditional, family-run tavernas that are found in the villages of Nicosia. When in such tavernas, you should always order Cyprus meze in order to taste a variety of food, usually more than 10 dishes, that will impress even the pickiest eater!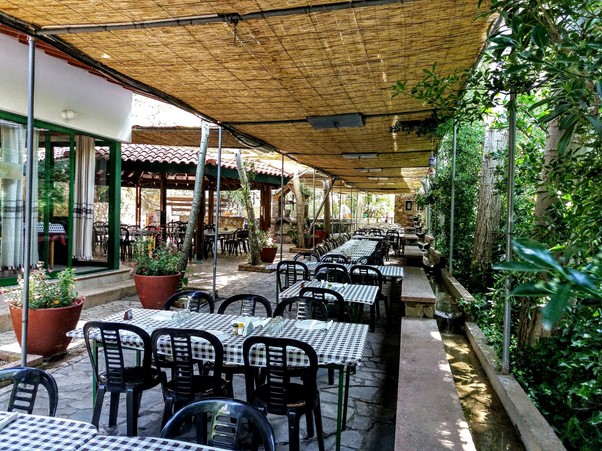 "POTAMOS TIS MILITISAS" – KAMPI VILLAGE
In Kampi village, a small village in the Farmakas area at Troodos Mountain range, not only you can enjoy the tranquility of nature but also a lovely taverna, known as "O Potamos tis Militsas". The restaurant was named after the nearby river and the passionate Militsa (the owner) who provides guests with a culinary feast. A traditional oven is used for many of the taverna's dishes, and you can enjoy the local cuisine while relaxing in the tranquil nature. Aside from the traditional meze dishes like "keftedes" (meatballs), "pastourmas" (spicy sausage) and "koupepia" (vine leaves with a mixture of pork and beef minced meat), the restaurant also offers a divine Cypriot breakfast at weekends
Address: Kampi, Farmakas, 2619
Telephone: + 357 22 643315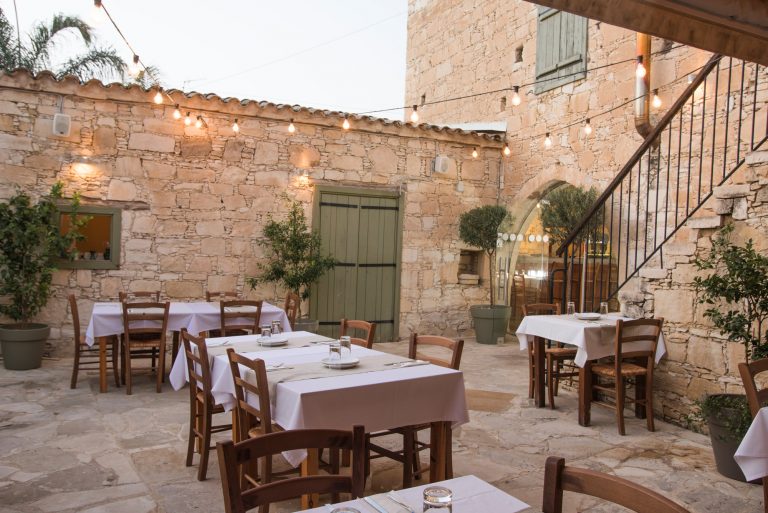 "PEIRAGMENA" – LYMPIA VILLAGE
In Lympia, a small village very close to Nicosia, the taverna "Peiragmena" is a must-try. The food is not cooked in a traditional manner, but, , it is "tweaked".  While the environment and decoration look like other traditional tavernas, each dish has a creative note, made with seasonal ingredients and local produce, making everything truly unique. The menu constantly changes according to the produce of each season, hence, each time you visit this taverna, be ready for a different gastronomic experience.
Address: 15 Theodorou Mavrosavva, 2566 Lympia, Cyprus.
Telephone: + 357 22 524 333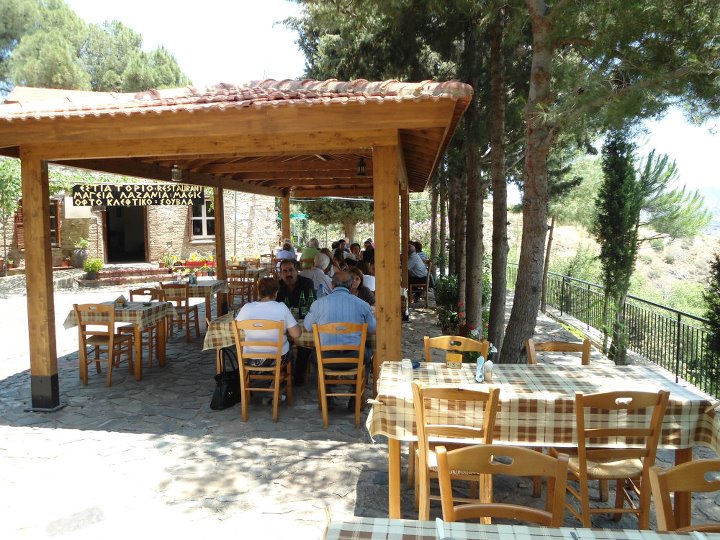 "MAGEIA LAZANIA" – LAZANIAS VILLAGE
Lazanias, a village with only a handful of inhabitants, has managed to create quite a reputation with its cozy traditional taverna, "Mageia Lazania", which used to be the village's school. Admittedly, there's no better place to experience the famous Cypriot hospitality. On Sundays, you can enjoy a rich buffet with traditional dishes like "makaronia tou fournou" or otherwise known as oven-baked pasta, "kleftiko" which is  roast lamb cooked in clay oven, fried zucchini with eggs, while on other days, you can order from the taverna's rich menu.
Address: Lazania, 2618 Nicosia
Telephone: +357 96530129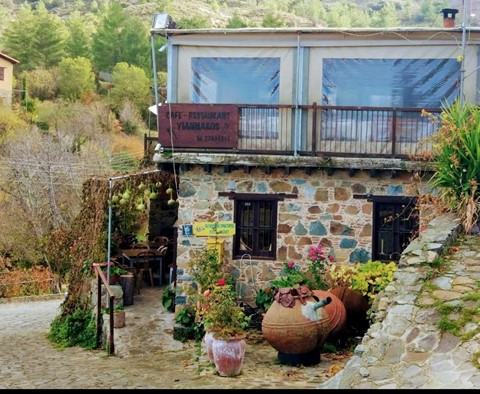 "GIANNAKOS TAVERN" – FIKARDOU VILLAGE
Nearby Lazanias, you will find Fikardou, a very small and remarkably quiet village that looks like it was forgotten by time. In fact, it has only three inhabitants while the entire village is declared as a World Heritage Site. Despite its small size, there is a lovely stone built taverna, "Giannakos Tavern", which serves Cypriot meze on a daily basis while on Friday evenings you can also try a traditional Cypriot dish, "souvla". In the summer, you can sit at the taverna's verandas while, during the winter, you can enjoy your dinner in the warmth of the fireplace.
Address: Phikardou 2623, Nicosia Cyprus
Telephone: +357  22 633311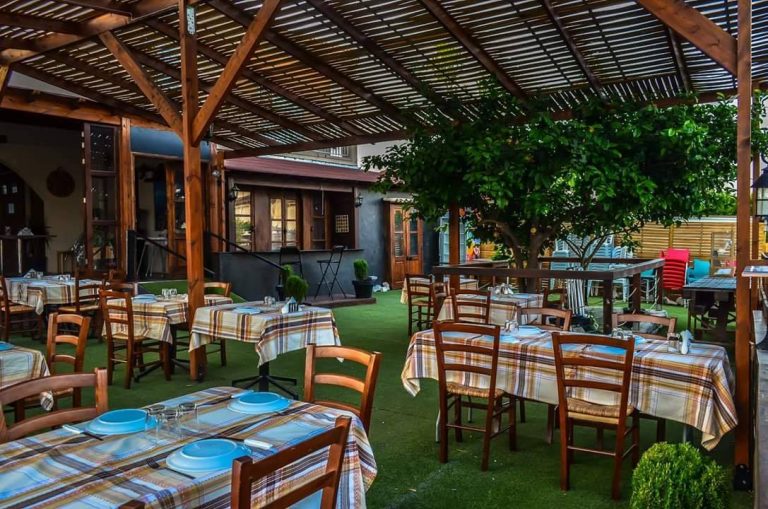 "ERYTHRODONTAS TAVERN" – LYTHRODONTAS VILLAGE
In Lythrodontas, a village built on the foothill of the mountain region of Machairas, you should definitely visit "Erythrodontas Tavern" for simple yet fresh and delicious food of excellent quality. You can sit in the outside area of the taverna to enjoy the cool summer breeze while on Thursdays it serves one of the most famous Cypriot traditional dishes, "ofto kleftiko", which the taverna prepares in its own specially made traditional oven and is accompanied by "pourgouri", potatoes, and salad.
Address: Panagias 4, Lythrodontas 2565
Telephone: +357  22 542942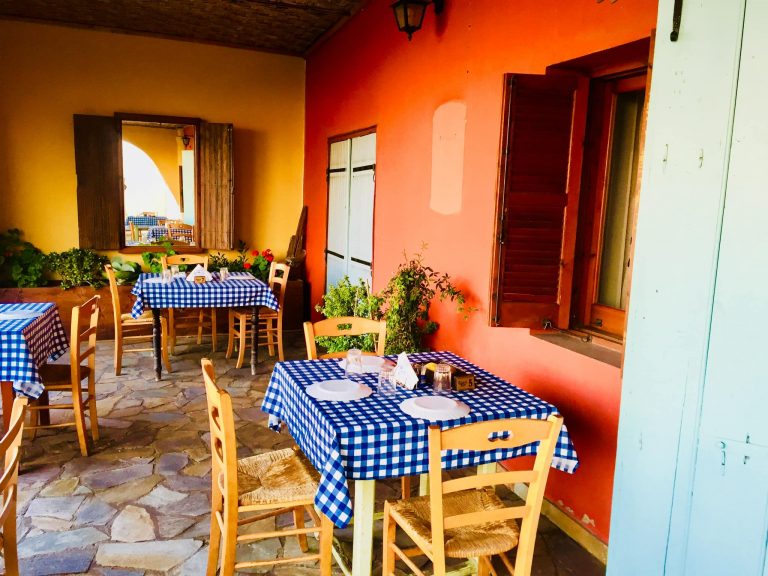 "THEODOSIS TAVERN" – DEFTERA VILLAGE
Last but not least, at a very close distance to Nicosia, a preserved farmhouse in Deftera village, "Theodosis Tavern". There, you relax and have a good time while enjoying this meal in the warm and pleasant atmosphere of the taverna's traditionally decorated inner courtyard, with its wooden chairs, checkered tablecloth, and friendly service.
Address: Arc. Makariou 36, Pano Deftera, 2460, Nicosia
Telephone: +357 22 621537
Nicosia has so many culinary options which can be combined with a roadtrip to the scenic villages of the island. And what a better way to complement your road trip than at a lovely, traditional tavern to experience the authentic, flavoursome Cypriot cuisine.