If you are a nature lover, the capital has plenty of parks and nature trails, where one can go for a relaxing walk, be challenged with a demanding hike, and have a break from the hectic rhythms of the everyday routine. Especially when it comes to the weekends, fortunately, the outskirts of Nicosia are easy to access, making them ideal for a day trip in nature.
In an area of 840 hectares, at the south east of Nicosia, Athalassa National Forest Park, the biggest green area of the capital, offers one of the most picturesque sceneries. The park forms the ideal escape, even for a short time, resembling an oasis of greenery with plenty of trees and shrubs. The highlight, of course, is its magnificent lake, where swans and ducks take a leisurely journey, adding to the already scenic atmosphere of the park. Choose one of the many trails that cover a total of 20 kilometres and, cycle, run, or walk with your dog or visit the bird observatory to watch the birds.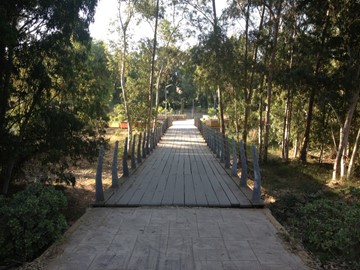 For some exercise or just for a restful walk, Pedios Linear park, which stretches for around 14 kilometres, has many pedestrian and bike paths to choose from, in a charming atmosphere among the green band of trees and by the banks of Pedieos river. An interesting walk is guaranteed, where, apart from the natural surroundings, you 'll encounter a bust of the Cosmonaut Yuri Gagarin, a small stone chapel, and scenic views from the paths.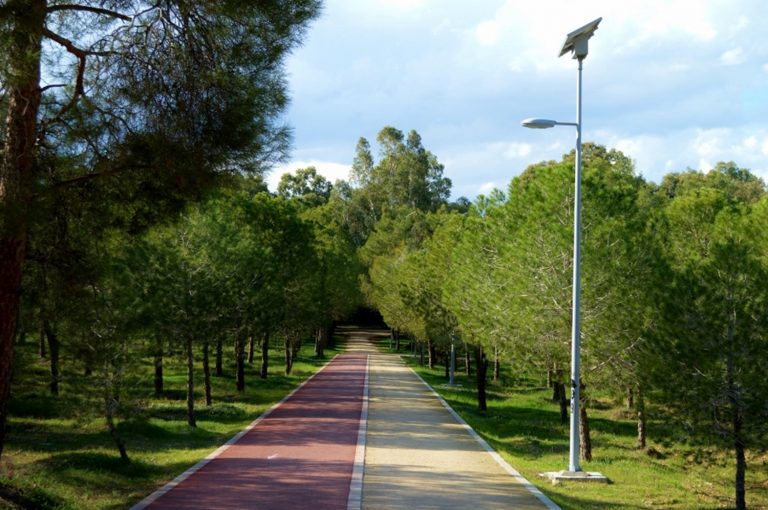 Near the city centre and the Municipality of Aglantzia, the National Forest Park of the Pedagogical Academy is a real gem with an array of options if you are looking for an escape in nature. The park includes a picnic area and is ideal for families with small children as there is also a children's playground nearby. There's also a kiosk, so you don't have to prepare your own picnic basket. Likewise to the other parks, there are several pedestrian lanes and a bicycle track for exercising while breathing the fresh air provided by the huge eucalyptus trees and pines!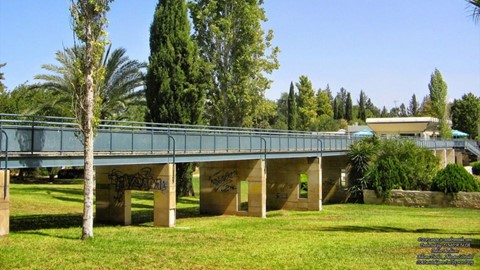 Acropolis Park, in Strovolos, is simple yet charming, with a vast grass area where you can enjoy the sun, play some frisbee, walk your dog, or let your children release their excess energy by running around and playing. For the basketball lovers, there's also a court so don't forget your ball and your teammates! Unlike the other parks mentioned in this article, Acropolis park has a big café restaurant with an extensive menu that stays open until late at night.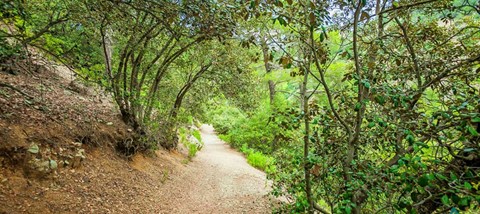 In addition to its many parks which are easily accessed and conveniently located in the city centre, Nicosia has also got various marvelous nature trails that will not disappoint even the most demanding hiker! At the Kionia picnic site, you'll find a 7 kilometres downhill trail, suitable for more experienced hikers as it can get slightly steep, especially towards the end. Along the path, you'll admire the brilliant and breathtaking views of Mesaoria plain, various perennial pine and arar trees, and different endemic plants.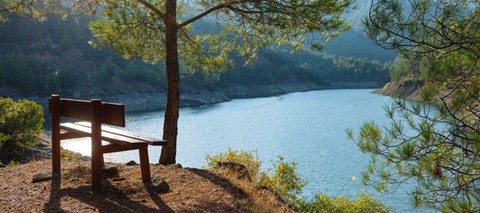 For the most magnificent lake views, the circular Adelfoi Forest Nature Trail, albeit short (3,8 km), is truly magical. You can either start from the dam's picnic site or the overflow of the dam. This is a relatively easy path where you will find, among others, various golden oak trees, strawberry trees, myrtles, and oriental alders.
From Stavros tou Agiasmati, a short distance of 8 kilometres from Platanistasa, there is Panagia tou Araka trail, in Lefkosia-Troodos area. With an altitude of 1,164 metres at the highest point, one will definitely appreciate the scenic views of Morfou plain and the Pentadaktylos mountain range. What marks this trail as truly unique is the fact that you can also visit two UNESCO World Heritage Sites: the churches of Panagia Araka and Stavros tou Agiasmati along with their outstanding frescoes. You'll also pass through a pine forest, vineyards, and almond trees which look outstanding during the springtime when they blossom.
Agia Tylliria has a unique environmental character and natural beauty. Recently, the Nicosia tourism board (Visit Nicosia) has sponsored the creation of nature trail in the area in order to connect Pigainia, starting from the Sahapra Cliff, and Mosfilli villages, ending at Ayia Marina church and enrich the area's tourist sites.
Nicosia has abundant options for finding an escape in nature , whether this is a short break at one of the capital's parks or a day-trip at the outskirts of Nicosia where one can unwind with a hike, followed by a picnic with friends and family within the striking natural surroundings that the areas discussed have to offer.