A 50-minute drive away from the capital, can lead you to the discovery of picturesque villages full of tradition where you can relax and unwind in their lush green countryside.
Kakopetria village
Probably one of the most popular villages visited by locals throughout the year, for day trips to the countryside but also for long stays during winter, Kakopetria village has a lot to offer from rivers to old churches and a forest. Located 55 kilometres southwest of Nicosia, on the north facing foothills of the Troodos mountains, this stone-built village is ideal for a break from the crowds. Visit its most popular attraction, a church built in the 11th century, Ayios Nikolaos tis Stegis, a Unesco world heritage site. At the Linos Museum explore old traditions associated with wine, bread and olive oil. The "Petra tou Antrogynou" (Stone of the Married Couple) is also worth a visit- you'll learn about the old customs it carries. There is also a famous watermill, built by a deacon of the Saint Nicholas monastery in 1754. A stroll through Palia Kakopetria, or the old part of the village (a real picture-postcard treasure) is also a must, it feels like an open air museum of folk tradition and architecture with incredible scenery and landscapes. There are lots of taverns and shops with local produce such as homemade jam and embroidery in this area.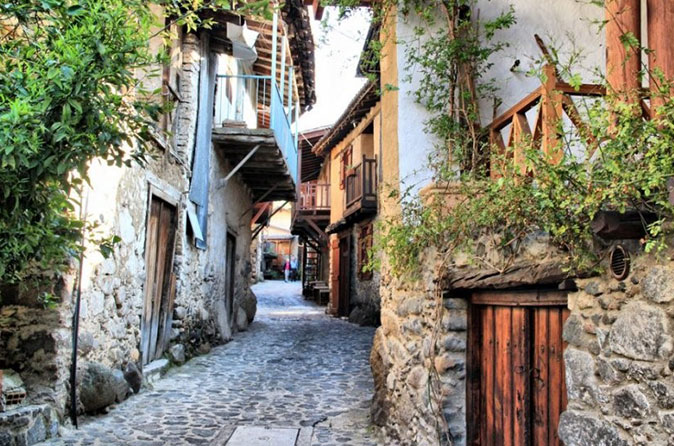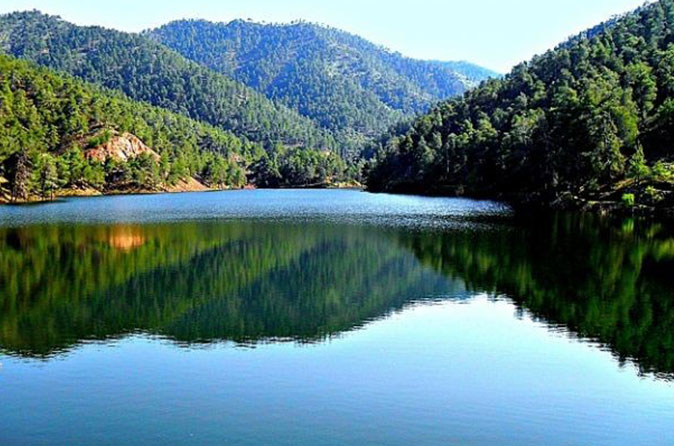 Ayia Marina Xyliatou village
Just 40 kilometres away from the capital, you will find Ayia Marina of Xyliatou, a small but charming village of the Nicosia district. A must-visit is the stone-built church of Ayia Marina, a cultural heritage site, situated in the heart of the village. Ayia Marina also offers a fountain of holy water found in the community park. In the nearby village of Xyliatos, just 3km away, there's a beautiful lake at the Xyliatos dam- it's a hidden gem as few know about it, but it offers mesmerising views nestled among pine trees. The dam's area is home to a harmless water snake called Natrix, a rare species. You might encounter local fishermen at the lake. There's also a nature trail along the lake and a picnic area near the dam.
Kalopanayiotis village
One of the prettiest villages, Kalopanayiotis can be found 70 km away from Nicosia located in the evergreen valley of Setrachos river. There is a large hotel here that is worth the long stay. There are also a couple of taverns with traditional Cypriot food and there is also a café-bar. While here, visit the Unesco world heritage site of Agios Ioannis Lampadistis Monastery, built during the Byzantine era between the 13th and 17th century. The Venetian bridge is also worth a visit. The village offers itself for cycling with many trails and rural roads suitable for the activity. There are also nature trails along the river that offer a truly unique hiking experience surrounded by the beautiful countryside with breathtaking views. This dreamy village is so charming, that a feature film was shot here in 2014, called "Boy in the Bridge", that travelled to film festivals world-wide