Nicosia is a diverse and cosmopolitan city, hence, no wonder it is becoming the optimal place in Cyprus to live and work in.  The capital's modern infrastructure, its various offices and businesses, its lively shopping roads, but also the new modern apartment blocks and houses that are constantly being built render the capital the ideal option, especially for young people and expats, to pursue a career and appreciate all it has to offer. At the same time, the city's administrative, commercial, and business sector is complemented by its warm people, rich history, and culture. In light of this,  Nicosia gives a unique opportunity to anyone who is looking for business prospects and, simultaneously, to enjoy the many benefits of living in the capital: from a vibrant nightlife to unique restaurants and a safe destination for families with plentiful options for children's education at one of the many public and international private schools.
The capital has a plethora of different industries, so it is very easy for one to seek a job at one of the several businesses that manufacture clothing, leather, ceramics, plastic products, and so many more. Notably, since joining the European Union, in 2004, Cyprus has become the first choice for many multi-national companies that wish to provide their services while being based in the EU. As a result, a gradual increase in job vacancies has been noted in the island over the past few years, especially in the capital. In particular, IT and technology-related jobs, as well as financial services and corporate service job opportunities, have significantly risen.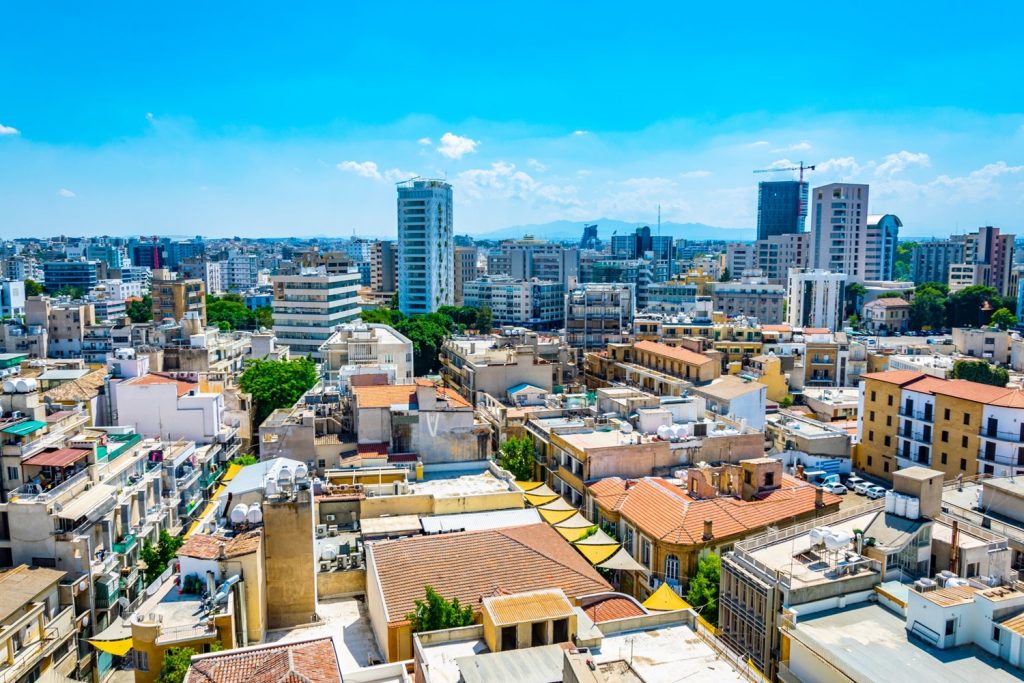 Conveniently, due to island's small size and Nicosia's prime location, the capital provides straightforward and fast access to all other big cities in Cyprus. Limassol and Famagusta are only one-hour drive while you can be in Larnaca, which houses the capital's main airport, in less than thirty minutes. This makes it very practical for locals who are from other cities to live in Nicosia, as they can visit their home town every weekend, if they wish to. Notably, the public transport system in Cyprus offers island-wide bus service that makes moving around the city really simple while regular intercity routes that connect all unoccupied cities of Cyprus are operated too. Also, for those who travel a lot, commuting back and forth to the airport is no trouble at all, either by car or by using one of the shuttle services that are available. Particularly for expats, Cyprus' strategic location at the crossroads of Europe, Africa, and Asia, makes travelling in any part of the world quick and easy.
The capital, however, is not only the place of most businesses but also boasts of cultural events and happenings: Theaters, galleries, exhibitions, and a series of experimental, contemporary events take place throughout the year, making Nicosia the ideal place to live in if you are a culture lover. Leventis gallery,for example, located in the city centre, is definitely a must visit place for art enthusiasts while, for archaelogy fans, the Cyprus Archaelogical museum has a whole array of ancient artifacts. For laidback walks and shopping, Makariou avenue is the perfect option. Its recent facelift has definitely contributed to the avenue's revival, which is now filled with people who leisurely spend their time at its many international chain stores and major  brand shops. Nicosia's inhabitants can take a short break from their hectic schedule at the new Eleftheria Square, designed by the famous architect Zaha Hadid, which is one of the most popular landmarks of the capital. Its minimalist and cutting-edge design has brought Hadid's vision to life, that is, to blend the old with the new and connect the fortified Venetian walls with the modern part of the city. The square's moat section attracts both pedestrians and cyclists who exercise or take a stroll around while admiring the water fountains, grassy areas, and installations.
Importantly, Nicosia is the seat of various universities and research centres. First of all, the University of Cyprus (UCY) which is the largest public university of the island, is in Nicosia while there are several other private universities in the capital. UCY, apart from being a highly esteemed educational institute, has also got various different research centres. The Archeological Research Unit, the Centre of Medieval Arts and Rituals (CeMAR), KIOS Research and Innovation Center of Excellence, the Oceanography Centre, and the Cyprus Neuroscience Research Unit (CNRU) are just a few examples. Also, Nicosia has the Research and Innovation Center on Interactive Media. Smark System and Emerging Technologies-CYENS Centre of Excellence, which is supported by the European Commission and collaborates with some of the best international universities in Europe. Moreover, the Cyprus Institute of Neurology and Genetics (CING), which is a very successful medical research and academic centre, is located in the capital.
There is an array of reasons why both expats and locals should seriously consider seeking a job in Nicosia; from the many different career opportunities to the high-quality lifestyle and cultural stimulations. Whatever your interests are, the capital is a friendly and attractive place that definitely has the means to accommodate them.